Home / Aerospace and Aviation Mobile Platforms / G Series – Mobile Self Leveling Stair Work Platform
G Series – Mobile Self Leveling Stair Work Platform
---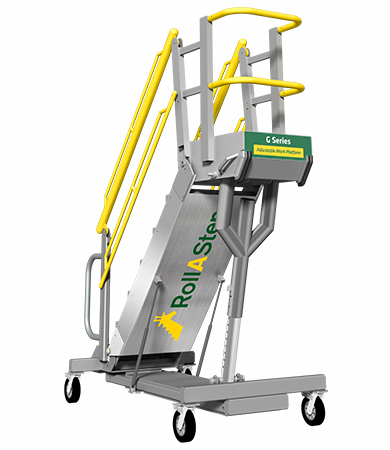 G Series – Mobile Self Leveling Stair Work Platform
The G Series adjustable height design provides a safe work platform at the correct height for the job. The self-supporting platform allows operators to work in multiple locations without a ladder. The 24-inch-wide steps and platform (6 sq. ft.) self level to present a safe walk and work surface at any of it's height settings.
Adjustable Height
The height of the G Series can be adjusted by removing a simple locking pin—when the desired height is reached, simply replace the locking pin. Gas springs assist in raising the platform, while gentle downward pressure lowers the platform. There are no hydraulics or springs to leak or fail.
Easily Mobile
The lightweight aluminum upper and high-quality casters make this rolling gangway easy for a single user to position. The soft, 360° swiveling casters are easy to roll both indoors and out and allow precise placement around sensitive equipment.
Large Work Area
The G Series' work area measures six square feet, so it's large enough for an operator, tools and parts. And it features a full toeboard to prevent slips and tool drops.