Home / Aerospace and Aviation Mobile Platforms / C Series – Easily Customized Mobile Cantilever Work Platform
C Series – Easily Customized Mobile Cantilever Work Platform
---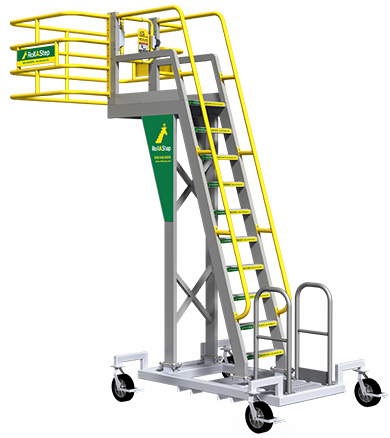 The cantilevered work platform of the C Series allows an operator to safely move onto and/or above tall industrial machinery. It's available in sizes ranging from 8′ to 12′, and can incorporate an optional cage for off-platform safety. The rolling platform features forklift pockets for quick and easy long-distance moves.
Stability Meets Mobility
The C Series provides operators with a fixed-platform work area above or beside tall industrial machinery, rail cars, trucks and other high machines. The design includes a steel base that adds exceptional counterbalance, as well as a very lightweight aluminum upper that minimizes weight. The easy-steer design and no-flat tires allow for single-user mobility even over rough ground.
Safe, Spacious Work Area
The C Series features a full six square feet of work area, allowing ample room for a user, along with any parts or tools the job requires. The cantilevered platform is self-supporting and extends 2'5″ beyond the base of the chassis, providing access to delicate machinery that requires no contact by the platform itself. Plus, an aggressive safety tread covers the entire work surface and provides excellent draining for use in inclement weather.